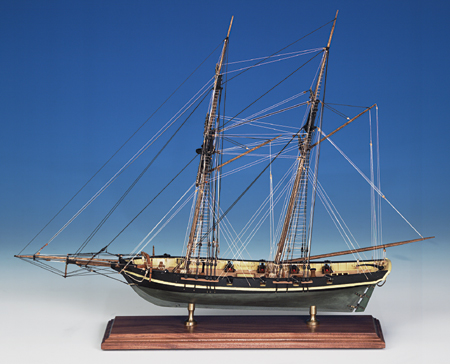 MS2003 Dapper
Tom Baltimore Clipper
by Model Shipways • Solid Hull Kit
The Dapper Tom, an 8-gun topsail schooner, is to great extent, typical of Baltimore Privateers of a stormy decade when ships were at the mercy of any stranger, and even armed ships were safe only in proportion to their nimbleness.
Model Shipways' Dapper Tom kit features a machine carved basswood hull with accurately shaped bulwarks and transom. Fittings include 8 cast metal cannon, mast caps, anchors, capstan and gratings, brass eyebolts and belaying pins, plus hardwood blocks and deadeyes. Scribed decking, wooden masts and yards, and three diameters of cotton rigging provide the finishing touches of authenticity. With the help of clearly drawn plans and revised illustrated instructions by Ben Lankford, even first time builders can finish an impressive model.

(Display base and brass pedestals are not included.)
1:76 Scale / Length 24'' / Height 18''
Difficulty Rating: Entry Level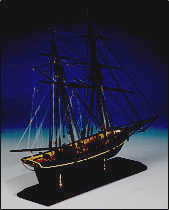 History of Model Shipways Dapper Tom
During the 19th Century, many Baltimore Clippers were granted privateering licenses by the US Government. Since all commerce was subject to the legalized banditry of privateers, only a fast, well handled ship could be reasonably sure of reaching its destination. Privateers like the Dapper Tom depended on their sailing abilities and fire power to prey on foreign shipping and to escape the British men-of-war patrolling the high seas.
The plans of the Dapper Tom were developed in 1954 by John Shedd, the original owner of Model Shipways in Bogota, New Jersey. The model is a reconstruction of a typical Baltimore Clipper. The model's hull is based on Marestier's drawing No. 6 as taken off that vessel in stocks in 1814. Rigging is based on contemporary practice. Those wishing to study the development of this type should consult Howard I. Chapelle's book The Baltimore Clipper (See Bibliography).
While the plans are reproduced from the original, the kit has been updated and reissued by Model Shipways. New instructions are provided along with a more complete set of supply instructions for building the model. The fittings are now cast from lead-free Britannia metal and some laser-cut wood parts added.